What makes Hummer the best is not what you can see, but what you can´t…its heart and soul.

a.. Welded box frame is constructed of high strength steel with five heavy-duty cross members bolted at strategic points.

b.. A fully independent suspension

c.. Geared hub assembly that doubles torque at the wheel end

d.. Full-time four wheel drive

e.. 16-inch (406 mm) ground clearance

f.. 30-inch (76 cm) water fording capability

g.. Heavy Duty front anti-sway bar

h.. 72" track (1,819 mm) for maximum stability both on and off road

i.. Torque biasing differential

j.. Heat-treated aluminium alloy body panels are first bonded together with epoxy, then secured with more than 2,800 rivets
This construction enables a Hummer to shrug off punishment and environments that would seriously dagamge other vehicles while making it highly resistant to corrosion.

You´ve got an important job to do and your equipment must perform. When that alarm sounds you need to be focused on the job that lies ahead, not whether your going to get there or not. Time is critical when lives and property are on the line. You need a
.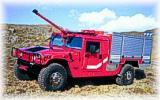 The HUMMER has quickly become recognized as the premier emergency response vehicle on or off-highway. Unmatched mobility is the hallmark HUMMER trait that allows you to get to…and get out..of the most remote emergency situations.